About
Peter Moes (rhymes with shoes) is the son of Moritz Moes from Amsterdam, Holland and Inge Baerthlein from Wuerzburg, Germany. He was born in 1946 in Seeshaupt, Bavaria. After studies at the Technical University of Munich he entered violin making school in spring of 1972.
Wendela Moes, born Wendela Taylor, was the 4th of 5 children in an academic family in Boston, Massachusetts. She entered violin making school in the fall 1971 after her studies at the University of Wisconsin in Madison.
Wendela and Peter Moes met and married while attending the Violin Making School in Mittenwald, Germany and received journeyman's diplomas after the 3½ year program in 1975. After graduation they worked for Hans Weisshaar in Los Angeles where they gained expertise in instrument restoration and repair. In 1978 they moved to England and went into partnership with a London dealer. After the birth of their first child this partnership was dissolved in October 1981. They then moved to New York City to open their own violin shop, MOES & MOES Ltd., at 225 W. 57th St, within view of Carnegie Hall. They were to remain working in New York City for 10 years
In addition to repairs, restoration and sales of fine old instruments, the Moes's always specialized in making new instruments that are now played by orchestral and solo musicians around the world. Among those are Yo-Yo Ma and Hilary Hahn (see Moes Owners Club). They received a gold medal for the cello they entered in the International Violin Making Competition of the Violin Society of America in 1984. Wendela received a further award for a violin she entered in the 1984 competition of The American Federation of Violin and Bow Makers. The violin was on display at Lincoln Center for the Arts for several months.
Why They Left New York City
(not required reading, but many people do ask)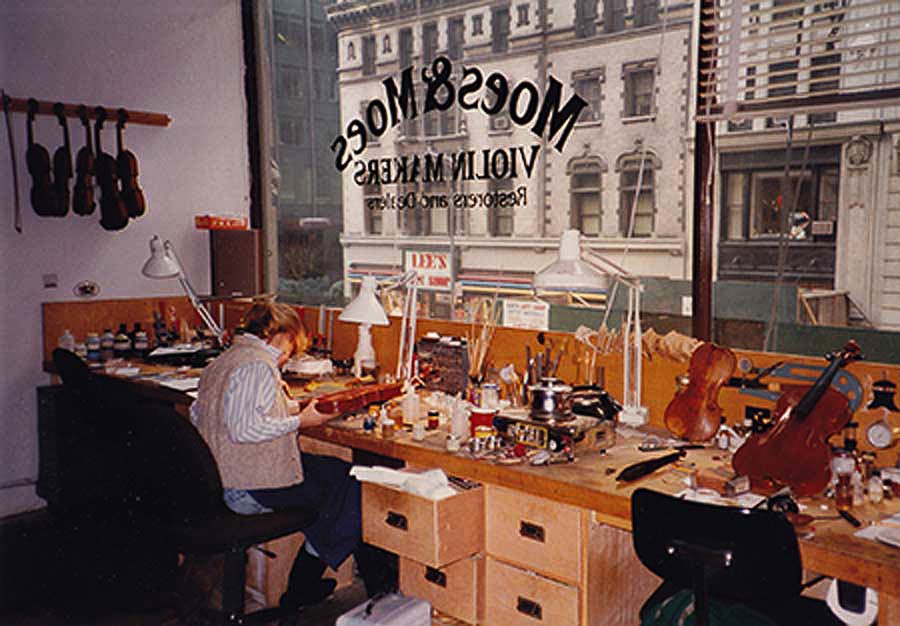 The shop in New York City flourished, but ironically, its success also made it difficult to continue. Jacques Francais who visited shortly after their arrival in NYC, said "You can't run a shop and do the violin work in it." He turned out to be right. With a steady stream of musicians in the door, it became increasingly difficult to work at the bench. At first employees were hired to take care of much of the routine work and Wendela & Peter worked on the special projects. Their reputation for being able to "fix things no one else could" also became a problem because they got many of those jobs. Difficult jobs can take 10 times longer to fix, but they could not charge 10 times as much for the work. At the same time, customer service and running the shop began to monopolize their time.
Things came to a head when their landlord began an extortion scheme charging all the tenants of the building real estate taxes for two other much larger buildings as well. The landlord did not back down even when presented with hard evidence. They returned the rent payments the Moes's sent without the bogus real estate taxes which were then $17,000 due within 10 days and increasing every year exponentially. They started eviction proceedings. After filing a class action suit against the landlord, Peter and Wendela did some soul searching. They decided that working at the bench was their strength and that they had little talent for the stressful organizational administrative duties associated with running a full service violin shop. Eventually they settled with the landlord and moved the workshop to their West 93rd Street apartment. They reduced the services to repairs, restoration and new instruments—no strings or appraisals etc. giving them time for the work that was their passion. Shortly thereafter in 1991 a search for special schooling for their very dyslexic daughter took them to Boston for two years and then back in the New York area to Stamford, Connecticut until July 2004.
(See link to Eagle Hill School Greenwich CT if you have a learning disabled child relative or friend—a fantastic school)
Please contact us if you would like to make an appointment.
Memberships
Peter and Wendela are presently elected full members of:
L'Entente International des Maitres Luthiers et Archetiers D'Art
American Federation of Violin and Bow Makers
Verband Deutsche Geigenbauer